Awww, shucks. A few weeks ago, April from
Money Pit Love
 awarded my 'lil ol' blog with the Liebster Award! Thanks April — such a sweet honour to be included alongside other amazing blogs that I read every day. I've been meaning to write this post for awhile now, but finishing the bathroom reno and recovering from my fourth illness (since December!) took precedence.
The Goods
The Liebster is awarded by bloggers to other newer bloggers, who have fewer than 200 followers, to spread the word and help newbie bloggers gain wider recognition. The award comes with four conditions that each recipient must satisfy when accepting:
Choose five up-and-coming blogs (with fewer than 200 followers) to award the Liebster to.
Show your thanks to the blogger who gave you the award by linking back to them.
Post the award on your blog. List the bloggers you are giving the award to with links to their sites. Leave comments on their blogs so they know about the award.
Share five random facts about yourself.
April's five random facts had me laughing out loud. Seriously, this girl is funny (and slightly twisted — but in a good way!) April and I had the pleasure of meeting (in real life) at BlogPodium and, man, I had a blast getting to know her! If you are looking for a giggle, you can read her five random facts here.
Five Random Facts About Me
ONE: My happy place is Hilton Head Island, South Carolina. Ted and I have been lucky enough to travel there the past two years and we love it. As much as I would like to explore other parts of the world, I'd be happy to return to HHI time and time again. It's such a lush, laid-back place with beautiful homes, beachy decor, endless bike paths and the ocean. Here are some snaps from our most recent visit in September 2011…
Massive beach front homes
Lush, winding bike paths leading to the beach
Gorgeous sunsets each and every night
TWO:
I'm pretty much obsessed with the colour combination of navy blue and orange. Our living/dining room decor has stumped me from day one (I've already painted the space twice in two years), but every time I see a room with hits of orange and blue, my heart skips a beat. I especially love the classic appeal of navy broken up with bright punches of orange. Once we finally tie up the bathroom renovation, my next task will be sourcing fabrics for the living room. My initial idea was to sew my own curtains and pillows, but lately, I've been lusting over these pre-made pillows…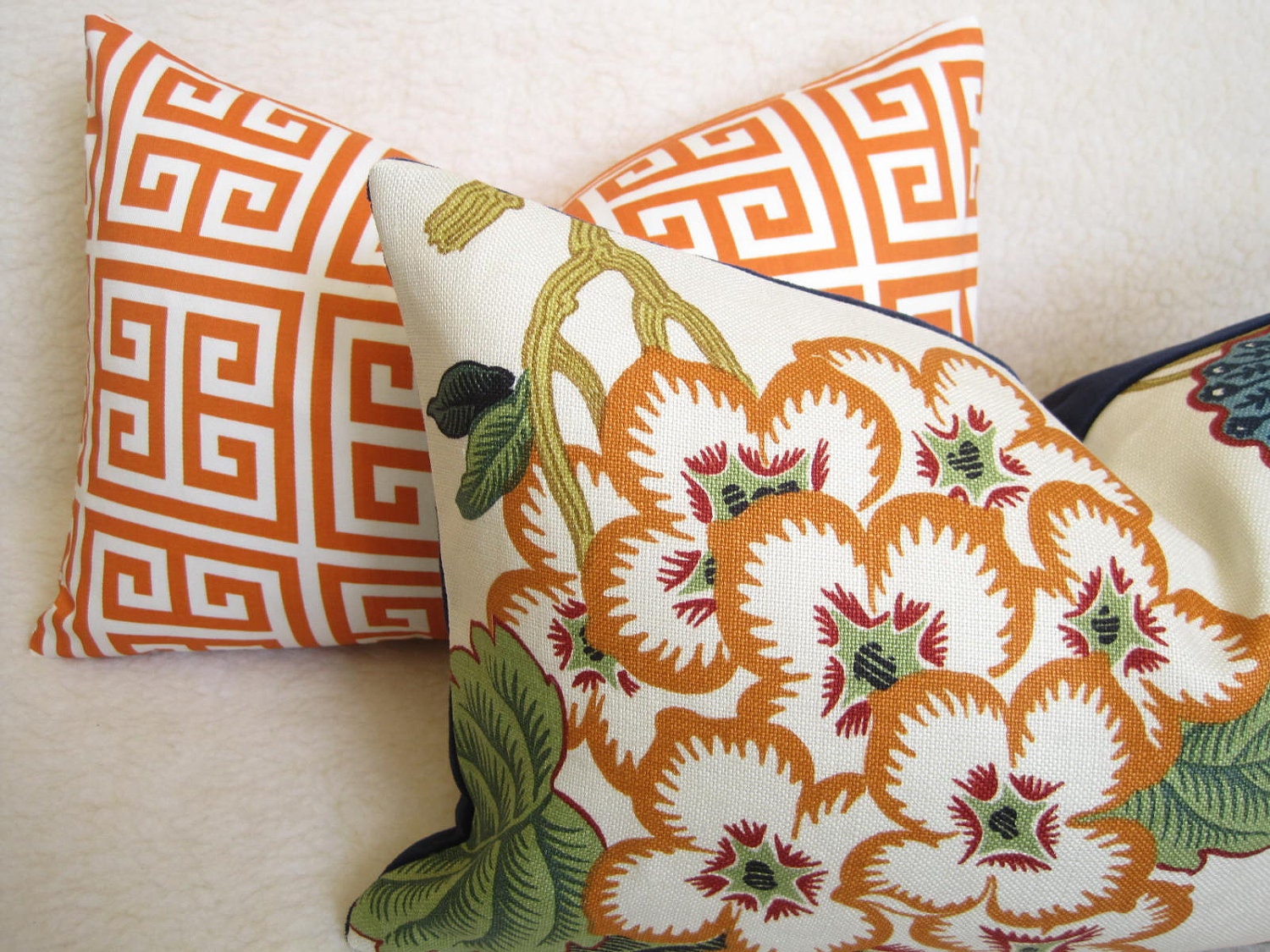 [Source: WillaSkyeHome]
THREE:
As a copywriter by trade, I spend my working hours in front of a computer writing for a variety of clients in varying sectors (from automotive to consumer packaged goods) and this, as you can imagine, eats up a lot of my daily inspiration and energy. After a long day of writing, I struggle with finding time to blog — I feel like I have no words left in me at the end of the day. However, writing outside of work hours has helped me rediscover my passion for writing, editing and social media — something that I lost over the last eight or nine years by focusing specifically on my career. I hope my future includes more time writing about my passions, such as DIY, design and life in general, and less time writing about someone else's passions. Ahem, "Universe", are you listening? This is me putting that out to you!
FOUR:
Contrary to popular belief, I despise painting. Like really, really despise. Having said that, I do enjoy the thrill of a freshly painted space. It's such an easy, affordable way to change the look of a room. So, I guess painting is more of a love/hate relationship. Thankfully, I managed to finish painting the bathroom over Family Day weekend, so I don't see any painting in my foreseeable future! Yes, I have taken paint to every. part. of. our. house. Maybe that is why I am so sick of painting?! Likely.
FIVE:
If you follow me on Pinterest, you will notice that I pin quite a lot. I love to troll the 'net for inspiring interiors, yummy recipes, crafty DIY products and other cool things. I also like to pin my own projects from this blog to help generate some traffic — and, boy, does it ever. Even though I am a "pinner", I rarely ever peruse the actual Pinterest website. Why? I find it very aggravating when "pinners" don't pin back to the original source, or the original blog posting. Nothing like finding a great DIY tutorial on Pinterest, only to click on the image and be taken to a blog homepage and not the tutorial. Frustrating, with a capital F! For me, I treat Pinterest as my very own virtual corkboard and that's it.
So, there you have it — five things about moi! Thanks again April for the kudos! I'm now passing on some Liebster Blog Award lovin' over to some of my favourite bloggers:
Martina from Adventures in Building Beauty
Erin from The Stucco Bungalow
Michelle from Sweet Suite 10
Nette from This Dusty House
Sarah from ReDesigning Sarah